People tend to feel peace when they know their end-of-life tasks have been completed. One of those tasks (if you are from the Lone Star State) is making sure that you have a valid will in Texas. So what are the will requirements according to Texas law? Keep reading to find out!
What Are the Requirements for a Valid Will in Texas?
You probably already know that a Last Will and Testament is a legal document allowing you to name your beneficiaries and legal guardian for your minor children. In short, a will helps dictate how your personal property will be distributed after you die. 
Every state has requirements that dictate what makes a will valid. Texas laws are straightforward. The person making the will must have legal capacity, testamentary capacity, and testamentary intent. There are additional formalities that must be followed. 
Legal Capacity
Legal capacity is a term that means that the person writing the will meets one of the following basic requirements:
at least 18 years old

lawfully married

a member of the U.S. Armed Forces 
Testamentary Capacity
To make a valid will in Texas, the testator must be of "sound mind." Testamentary capacity means that you have the mental ability to understand the process and its results.
Testamentary Intent
The term "testamentary intent" means that you are intentionally writing a document dictating how your property will be distributed after you die.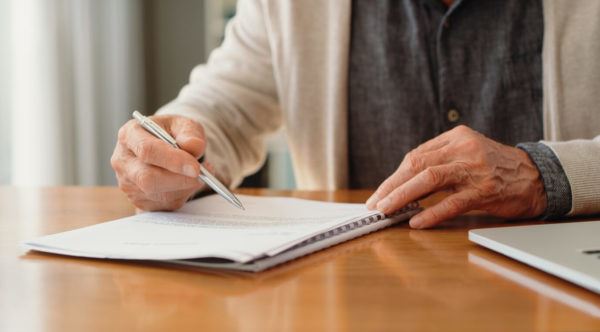 What Are the Types of Wills in Texas?
In addition to having legal capacity, testamentary capacity, and testamentary intent, you must follow specific formalities for your will to be valid. Before we discuss these formalities, it's helpful to understand that Texas recognizes two types of written wills.
Holographic Will (In Your Own Handwriting)
The first, a holographic will, is handwritten. Holographic wills must be written and signed – entirely in your own handwriting. A valid holographic will doesn't require attesting witnesses or the signature of a notary. 
Attested Will
The second type of will is an attested will. This type of will is not written in the hand of the signee. Instead, it is similar to one that an estate attorney would prepare for their client. 
An attested will must be signed by the testator and at least two credible witnesses over the age of 14.
Self Proving Affidavit
Both a holographic and attested will do not need to be notarized. However, you can add a self-proving affidavit to a will, which the testator, two witnesses, and a notary must sign. A self-proving affidavit is another way to verify that the will was completed in accordance with Texas probate laws. 
A self-proving affidavit (or self-proved will) can substitute for in-court testimony during probate court.
What Does It Mean That Texas Is a 'Community Property' State?
As you consider writing your Last Will and Testament, it's worth noting that Texas is a "community property" state. This means that Texas considers almost all assets acquired by either spouse during their marriage to belong to both spouses equally. This means that the surviving spouse is entitled to at least half of any community property, even if the deceased person wrote something different in their will.
Personal property, or property that belongs to only one spouse, can include the following:
Any assets acquired before marriage

Any inheritance received during the marriage

Any assets specified in a prenuptial or postnuptial agreement
Contact Wilson Brown Law to Complete the Estate Planning Process
When you complete your estate plan with Wilson Brown Law, you can rest easy knowing that all Texas estate laws have been followed. Our founder's guiding principle was to care for the legal needs of his clients – just as he would care for the legal needs of his own family. 
Whether you have an existing will that needs to be changed or are starting from scratch, contact Wilson Brown Law in San Antonio to schedule a free consultation.
Key Takeaways on Texas Law Requirements for Writing a Will 
There are three main requirements for writing a valid will in Texas: legal capacity, testamentary capacity, and testamentary intent.
There are two main types of wills in Texas. Neither requires the signature of a notary. 
Those writing a will can include a self-proving affidavit, which means that a notary witnessed the signatures of all who signed the document.
Texas is a community property state, meaning a spouse can't write a will leaving community property to someone other than their spouse. 
The post Wills in Texas: Requirements for a Valid Last Will in 2023 appeared first on Wilson Brown Law.